Non pare malaccio ...
http://cgi.ebay.co.uk/The-Beatles-Anthology-Collectable-5-x-DVD-Box-Set_W0QQitemZ130364283370QQcmdZViewItemQQptZUK_CDsDVDs_DVDs_DVDs_GL?hash=item1e5a5119ea#ht_2860wt_991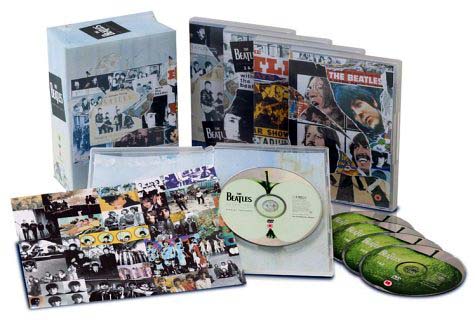 Format: Black & White, Colour, PAL
Language English
Subtitles: German, English, French, Italian, Portuguese, Spanish
Region: All Regions
Aspect Ratio: 1.33:1
Number of discs: 5
Classification: Exempt
Studio: EMI
Run Time: 672 minutes
The Beatles Anthology was initially broadcast as a TV miniseries to run alongside the series of three Anthology double-CD albums. This set of eight documentaries has the heft and scope of one of Ken Burns' expansive projects. The documentary material is copious, including early performance films and tapes, at the point before they found their true voices. The actual Beatle mania years--beginning in 1963 and concluding in 1970--feature extensive performance films, as well as home movies and archival material. The best parts, of course, are the interviews with the Beatles themselves, who produced the entire thing. Along with reworking two previously unreleased John Lennon tracks as "new Beatles songs", the Anthology includes some unseen Lennon interview tapes so that his acerbic voice can be heard as well. This stands as a comprehensive document of that heady period, the second coming of rock & roll, as the Beatles took what Elvis had started and expanded upon it exponentially. This box set gives a solid sense of the historical context and the way these four musicians changed the world around them in the 1960s. -- Marshall Fin
The Beatles Anthology on DVD… The Beatles as you've never seen or heard them before!
8 original video volumes are now on 4 DVD's in 5.1 surround sound, plus an additional 5th disc of special features – all individually housed in a new boxed set (contents not available separately).
The original programmes have three audio options: 5.1 surround sound in Dolby Digital or DTS formats and a new PCM stereo soundtrack. The footage has been re-graded and restored.
All the original episodes are featured in their entirety – The Beatles by The Beatles, with performances, interviews, revelations and contributions from record producer George Martin and others, plus original liner notes by press officer Derek Taylor.
All menus feature moving images from the Anthology collage with music beds of classic Beatles songs, and chapter headings for selective viewing.
* DVD 1 Episodes 1 & 2 (July '40 to February '64)
* DVD 2 Episodes 3 & 4 (February '64 to August '65)
* DVD 3 Episodes 5 & 6 (August '65 to June '67)
* DVD 4 Episodes 7 & 8 (June '67 to The End)
* DVD 5 Special Features, see below:
Disc 5 is a treat for all Beatles fans with 81 minutes of features, nearly all of which has never been seen before.
These very special features including the last jam session, are…
Recollections - June 1994
Paul, George and Ringo spend a summer's day together singing, playing and warmly remembering the early days.
Back at Abbey Road - May 1995
Paul, George and Ringo at Abbey Road Studios with George Martin, play back the multi-tracks of some of their classic recordings and reveal the inventive techniques used during the original sessions.
Recording "Free as a Bird" & "Real Love"
Paul, George and Ringo, along with Jeff Lynne discuss the story behind these recordings - includes intimate footage of them all at work in the studio.
Real Love Video
The video not screened as part of the original Anthology series, now in glorious 5.1 surround sound.
Compiling the Anthology Albums
Paul, George, Ringo and George Martin discuss how the three Anthology double albums were compiled.
The Making of the "Free As A Bird" video
An intriguing insight from director Joe Pytka into how the Grammy Award winning video was created.
Production Team
The team behind the Anthology series discuss how the programmes were made.
Ultima modifica di nd1967 il Sab 6 Feb 2010 - 9:04, modificato 1 volta (Motivazione : aggiunta foto e info)